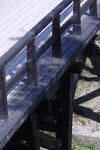 I think my favourite spot, or at least a place I would like to go back to, was Old Sarum. I have been over to England about a dozen times and had always heard about the hillforts but have never been to where one had been located. Quite a view!
JJ, Toronto, Ontario
High above Salisbury lies Old Sarum the site of the original town. Originally an Iron Age hill fort which was then occupied in succession by the Romans, Saxons, and the Normans before being abandoned in favour of New Sarum in the valley below, or as we know it today Salisbury. It is a high point in the local landscape and was probably used as a sighting point by the Romans as at least five of their roads converge on it.
Following the Norman invasion in 1066 the hill was further fortified with the creation of a motte (mound) with a deep ditch and the building of a castle upon it. The castle must have been almost impregnable to a large-scale invasion and the strategic importance of the site continued. Bishop Osmund, later St Osmund, built a cathedral in the bailey which was completed in 1092. With its already prominent position, both the castle and the cathedral must have been an awe inspiring sight visible from many miles away.
When Bishop Poore and the clergy started to relocate the cathedral in 1220 the rest of the town soon followed. By the mid 1500's there was not one house left standing as most of the building materials had been taken away for use in Salisbury. There are many examples of carved and decorated stone from the original cathedral to be seen in the wall of the Close which surrounds Salisbury Cathedral.
There is a fascinating history to this now deserted town. There are the remains of some of the stonework from the castle and the outline of the old cathedral can still be clearly seen. The ditches remain a splendid sight as are the fine views of Salisbury and its cathedral in the meadows below.
We can provide a tour of the site which will take about 2 hours. Why not visit both Old Sarum and New Sarum to make a full day visit?
For further information please Contact Us.