There is no access to the inner circle at Stonehenge on one of our special access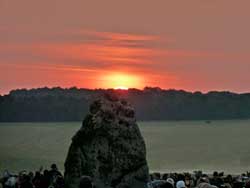 tours between the 18th and 27th December inclusive because of the winter solstice. There is,however, free access on the morning of the 22nd December to watch the winter solstice sunrise which happens about 8.09am.
As in previous years, there are Conditions of Entry to Winter Solstice at Stonehenge including a ban on alcohol & drugs as well as a prohibition on standing or touching the stones. Expect several hundred plus people there with you, but is no where near as crowded as it is at the Summer solstice and probably more enjoyable.
Parking is very, very limited in the area and car sharing or using alternative menas of transport is far easier.
Stonehenge itself is open from approx 7.45 am through to around 10 am.