There is no access to the inner circle on one of our special access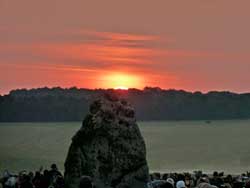 tours between the 15th and 30th June inclusive because of the summer solstice. There is,however, free access on the night of the 20th through to the morning of the 21st June to watch the summer solstice sunrise. Stonehenge closes to normal visitors at 3pm on Tuesday 20 June ahead of the annual Summer Solstice celebrations.
The last timed-ticket admission for pre-booked groups is 1pm, providing a 2-hour window for groups arriving at this time to view the monument and enjoy the exhibition and other facilities in the visitor centre.
Stonehenge will remain closed all day on Wednesday 21 June, re-opening to all visitors on Thursday 22 June.
As in previous years, there are Conditions of Entry to Summer Solstice at Stonehenge including a ban on alcohol & drugs as well as a prohibition on standing or touching the stones. Expect anything from 12- 36,000 people there with you.
Coach parking for Summer Solstice costs £100 per vehicle. Cars and minibus parking costs £15 per vehicle (up to 19 seats). It is a lot less hassle to get public transport up to the event from Salisbury than to take your own car.
It may help with your planning to know that the Solstice coach park will open at 7pm on Tuesday 20 June and that sunset is at 9.26pm. On Wednesday 21 June, sunrise is at 4.52am, the monument field closes at 8am and the coach park closes at 12 noon. Stonehenge re-opens to normal visitors from 9am on Thursday 22 June.